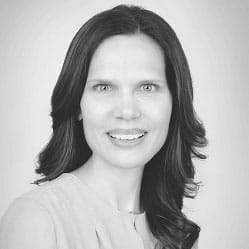 Rebecca is a Licensed Professional Counselor and Registered Play Therapist, holding a Master's degree in Clinical Mental Health Counseling from Texas Woman's University. She has extensive training and experience working with a broad spectrum of children, adolescents, individuals, couples and families.
Rebecca opened Blank Slate Therapy with a desire to serve the community that has been her home for over twelve years. Blank Slate embodies Rebecca's vision of what a clinic should be – safe, healing, comfortable, client-centered and supportive of growth. Rebecca has chosen therapists who are deeply committed to the individual needs of each client and passionate about their work.
Prior to becoming a counselor, Rebecca spent several years in the corporate world where she helped individuals return to work after sustaining life-changing injury or illness. This experience helped Rebecca understand the unique challenges faced by individuals in the recovery process, as well as a desire to be closer to the healing end of her client's journey. Since then, she has worked in a number of non-profit, private and school settings.
Among Rebecca's areas of practice are the treatment of anxiety and depression, obsessive-compulsive disorder (OCD), attachment and relationships, trauma and grief, abuse, self-harm, life transitions, addiction, spirituality, work/career, gender/identity issues and health issues including chronic pain.
As a Registered Play Therapist, Rebecca has extensive training and experience working with children and teens. She has worked with children and adolescents identified as gifted and talented, physically impaired, developmentally delayed, ADD/ADHD, and with diagnoses such as oppositional defiant disorder (ODD) or reactive attachment disorder (RAD). Rebecca has been trained in Child Parent Relationship Therapy (CPRT), a model shown to reduce parental stress and improve the parent/child relationship. She can also help with mood disorders, separation or school-related anxiety, and discipline/behavioral issues.
Rebecca has pursued specialized training in the use of Eye Movement Desensitization and Reprocessing (EMDR) with both adults and children, a modality often utilized to overcome Post Traumatic Stress Disorder (PTSD), phobias, and addictions. While EMDR has a reputation for being the "go-to treatment" for PTSD, it has been successfully used to treat obsessive thinking, OCD, panic, anxiety, and relationship problems.
Rebecca is trained in the Gottman method for couples, an evidence-based method based on decades of relationship research by Drs. John and Julie Gottman. Through this modality, couples learn to become better friends, manage conflict, and create ways to support each other's hopes for the future.
Rebecca is honored to offer the Frisco community a healing space where client care comes first.